This webpage supports a fair go for all, but a fair go was denied to Ned during his trial and also recently to Australian journalist Julian Assange locked up in a UK gaol. Lets get Assange back home ASAP. Click link below
https://www.change.org/p/free-julian-assange-before-it-s-too-late-stop-usa-extradition/u/24517199?cs_tk=Alfy5LfLQ9xJIOgc1VwAAXicyyvNyQEABF8BvD0eKtRKhr9EP_E6xF9U3l8%3D&utm_campaign=045bcb38622f411a9633f861375198e8&utm_medium=email&utm_
source=petition_
update&utm_term=cs

Background images are 1/3rd scale- detailed Kelly gang iron helmets.
Here is a challenge for all Kelly sympathizers- Write a short essay on why you believe people should be a sympathetic to Ned, and claim 30% discount off any Kelly Gang helmets detailed on this page. Your submission will be considered for publication in the new pending book release- 'The Politics of Ned' Submit your essay here.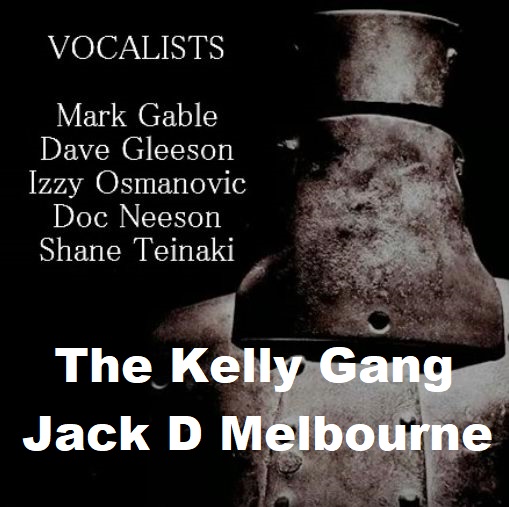 Jack D Melbourne says "When I was writing tunes for the Kelly Gang lyrics, it was very difficult not to give it an early Australian colonial or Irish feel" This recording has involved some of the greats of the Australian music industry vocalists and musicians and have been guided by Parris Macleod. First produced in 2008, on a Special Limited Edition CD, it springs to life with this visual video treat. Play it loud and well done everyone, look forward to part 2.
| | | | | |
| --- | --- | --- | --- | --- |
| | | | | What do these three links have in common? Leo Kennedy's book Black Snake, new signage at SBC, and the Lawless program on Ned Kelly? They're each misleading the real locations of the police camp site and where the police were shot dead, all aimed to pull the wool over visitors eyes. |
New book review , New signage installed, New documentary - all sanctioned by the authorities to lead you up the garden path to where 'supposedly' the Kelly gang shoot three policemen dead, but they are leading you to places where nothing ever happened. An Ironic-con, the cartoon below says it best.

| | | |
| --- | --- | --- |
| | | Ironic-ly, at the time of the killings the police were criticized for camping in a tight secluded spot at SBC and in great danger.That actual spot has now been hidden in preference to a site where nothing ever happened. Who will fall for this BS? Click here to see their plans. |
CSI@SBC. Crime Scene Investigation at Stringy Bark Creek, 2010, Initial team member, Bill Denheld received his digital draft copy of the team's document only to find his compelling Two Huts research totally ignored. Seeing their many glaring mistakes. I returned my digital copy with comments in blue text. I could hardly believe these fellow researchers could be so blinkered. Gosh I thought, if history can be construed like this 'and in print' we certainly have to question accepted written history. For the sake of historical truth, lets hope future students will see through this travesty.

If this was not bad enough check out their llatest July 2017 UPDATE its truly mind boggling




Update 14 Dec 2012. The latest research where Sergeant Kennedy died. Germans or Stringybark Ck ? Sergeant Kennedy was the officer in charge of the Mansfield police party to hunt for the Kelly brothers. Following the fatal shootout with the Kelly gang at StringyBark Ck ( SBC) where two police were killed, the Sergeants body was not found till five days later some 800 meters from their camp. We can conclude without doubt his body was found to the North East and not as previously thought near Germans Creek to the North West.


Ned Kelly Centre 2003 - The Penleigh Boyd and Bill Denheld Ned Kelly Centre proposal of 2003. Our aim was to produce a bold, gimmick free, truly Australian building.
Ned Kelly Alive 2018 - Concept Development and Business Case, was funded by Regional Development Victoria. But are we getting any closer?
Ned Kelly and the Myth of a Republic of North-Eastern Victoria. This free book by Dr. Stuart Dawson is a close examination of a longstanding claim that Ned Kelly and his gang had planned to establish a republic in north-eastern Victoria, with the active support of a large number of selector farmers. This investigation traces and reveals the origin and construction of the claim, which it definitively rejects. The "Kelly republic" is exposed as a complex historical fiction.





feedback Iron-Icon or Two Huts at StringyBark creek
If you have an opinion or can add to the story, have your say.
The place Ned Kelly occupies in Australian history are being re evaluated year after year. Share your thoughts or critique, agree or disagree and claim a genuine fragment of the Kelly target tree. This tiny wood keepsake relic of Australian folklore history is limited.. *


Background images are model replicas of Kelly Gang iron helmets for sale -


nativened. Where was Ned Kelly born? On 9 May 2018 it was reported the property known as Deloraine as previously owned by the Laffan family has been sold for AU $200 million. A similar property on other side of the railway line, a part of the 'Camoola property' is where Ned Kelly was born. At the time this webpage was being prepared 2005, it was spoken of that unless communities take notice of local history, the place where Ned was born will end up in someone's back yard.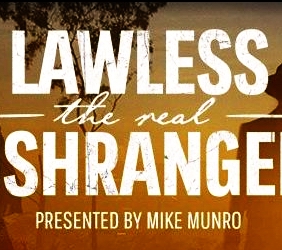 This page will show how highly respected journalist Mike Munro, presenter of the series LAWLESS, unwittingly has been led astray by pseudo archaeology, and sanctioned by officialdom, for the purpose to dumb down future visitors to Stringy-Bark Creek North of Mansfield, where the police were shot by the Kelly gang 1878.
All shrange considering one would think this topic involving law enforcements would allow lawless dishonesty sweep aside years of dedicated researchers?





Stringybark Creek News-updates, After four years,13th May 2008, Jeremy Smith of Heritage Victoria gives the go ahead to list the Kelly sites at Stringybark Ck, Kellys Ck, on the Victorian Heritage register. Since that time nothing has been done to undertake any proper archaeological work to verify the sites. In March 2014, Bill and Leo Kennedy identify a most likely spot where his G Grandfather Sergeant Kennedy was murdered .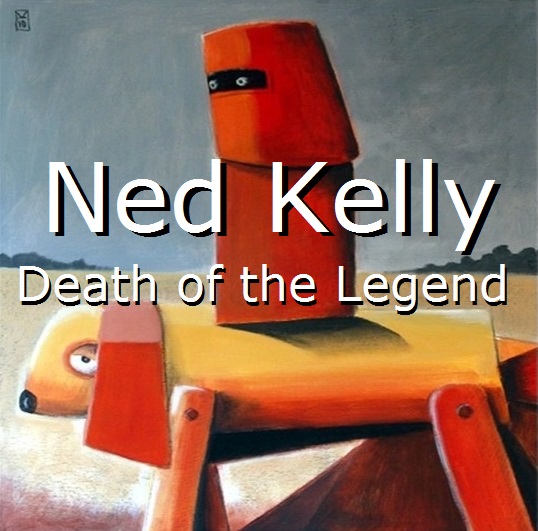 Ned Kelly: Unmasked Admin David says, I am sure that most "Pro Kelly" people are NOT afraid of debate and challenge and critical review of Kelly history, and would NOT support the action of the small fringe of Kelly bullies and thought forum Police who intrude on every discussion about Ned Kelly with the intent of shutting it down censoring it and stifling debate. Unfortunately however such a fringe DOES exist and no doubt will attempt to derail THIS Forum as well.
Link to 'Bill is Right about Stringybark Creek'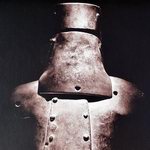 Ned Kelly: Villain or Victim? Steve Hodder
It will be 134 years this week since notorious bushranger Ned Kelly was hanged in a Victorian prison for the murder of police constable Thomas Lonigan. At recent police remembrance services, Kelly has again been branded a psychopath but who, asks STEVE HODDER, were the real villains in the tale of Australian history's most famous outlaw? Note; thumbnail left shows Dan Kelly's helmet !



Last week Mrs Kelly, mother of Ned Kelly, died in Victoria.
Shortly before her death she was interviewed by a representative of 'Smith's Weekly'. Throughout a long life her actions and views were governed by an hereditary bias of revolt due to her birth. In the course of the interview she unconsciously showed that this influence subsisted to the last.


Related site


Eleven Mile Creek is where the Kelly homestead stood near Greta West.
Sharon Hollingsworth and Brian Stevenson present news, views, nuggets and musings, some serious, some lighthearted but all to do with all things associated with Ned Kelly and the gang.



A recent photo reported to be the members of the 'Kelly gang' was put up for auction. It sold for $16k. My first reaction to the photos authenticity with faces so poorly detailed they could be almost any group of young men of the time? But added the fact the names penned in at the bottom overlapped the mismatched oval picture mount, proves this was a copy of a copy. I gave the photo thumbs down for auction but think fellow researcher Capt Jack Hoyle has identified these characters each with a pipe in their mouths as a huge joke, you be the judge.



Is this Ned ? Direct descendant of Ellen Kelly King, - Elsie Pettifer thought this photo was of her father Walter Knight, but this throws doubts for it to be Ned? The photo of railway sleeper cutters is being promoted by Kelly family members as Ned Kelly just after he came out of gaol in 1874. If it is Ned it could be worth millions, so a lot is riding on proper verifications. Unfortunately the photo is a copy of an original that has been lost. See a picture of Walter Knight for comparison.




Ned Kelly Centre 2015. This Facebook page is headed by Joanne Griffiths- whose vision for a Ned Kelly Centre is in the planning as a place for an unbiased tribute to a family and the community of the North East of Victoria, and its remarkable place in Australian history. It does not matter what you believe of Ned Kelly, he himself said: "Let the hand of the law strike me down it if it will, but I ask that my story be heard and considered".




Ned Kelly Central 2015 is a public Facebook site which invites people to be part of diverse discussion and document sharing Naturally Kelly hero sentiments will always be favoured amongst Kelly enthusiasts, but challenges to establish historical truth seems low on the agenda, especially with regards the subject of Stringy-Bark Creek where the police were shot, and where currently tens of thousands are to be spent by the authorities, but yet again at the expense of historical truth due mainly to a form of cronyism and control by a few.




They didn't hang Ned Kelly, they hung his Armour!
Peter Russell Clark, his paintings currently on show at Without Pier Gallery, provide a glimpse of the artists genius. A more evocative Ned image could not be created. It is true they only hung his armour but Ned lives on. A true bit of Australian art history is to be had for a song by visiting the gallery open till 16 April 2017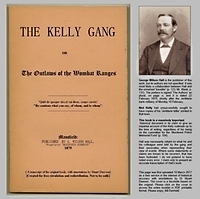 The outlaws of the Wombat Ranges published by G Wilson Hall is a massively important historical document in its claim to give an impartial account of the Kelly outbreak up to the time of writing. The account was published only four months after the StringyBark Creek police shootings and only two weeks after the the Jerilderie bank robbery by the Kelly gang. Its a free download as Stuart Dawson believes all such documents should be. Well done Stuart.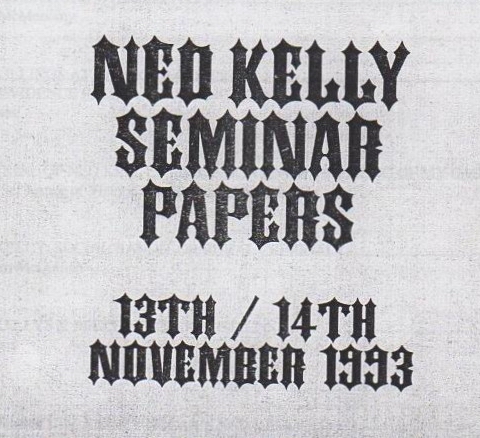 Ned Kelly Seminar Papers, - In 2002, Kelly researcher Marian Matta informed me she had transcribed the 'Ned Kelly Seminar Papers 1993' from audio tape Compact Cassettes onto her computer, I later transferred them to PDF for this free download. Talks by eminent historians include Keith McMenomy, Ian Jones, John H Philips, Dr John McQuilton and Jan Clark, they discuss the Kelly saga 25 years after the first symposium in 1968, Ned Kelly- Man and Myth.




The case for James Whitty. In this interesting thesis by author unknown, questions the vilification of James Whitty who in contemporary Kelly history books is seen as Ned Kelly's arch enemy because through one incident Kelly gained a bad reputation and become known as a horse and cattle thief. If the truth be known, the author provides insight into the Whitty / Kelly affair. Later, Kellys self professed thievery could be seen as a prank following 'blame it on the Kellys' after Whitty's bull went missing. It was more to do with social standing and rivalry.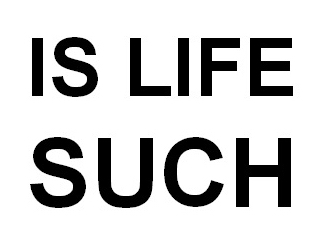 Stuart Dawson asks the question, It has long been widely, even admiringly, held that Ned Kelly's last words before execution were 'Such is life'. This is a key part of a prevalent Kelly mythology that has been subject to little serious critique. Yet the attribution of the phrase 'Such is life' to Kelly is pure fiction. Analysis of the reportage of the day recovers Kelly's actual last words, and explains how they were transmuted by one journalist into the catchy expression quoted as fact by many historians.


Background images are model replicas of Kelly Gang iron helmets for sale -

Local fossicker unlocks Kelly armour mystery? SM Herald 30 Sept 2006
An army of historians and folklore aficionados have been unable to establish in the 131 years since the armour made its mark on Australian judicial legend, where was it made? Beechworth local Darren Sutton believes he has found the forge where Byrne's armour suit was created. Darren found a piece of iron offcut that he claims matches part of Joe Byrnes armour. - reports Age writer- Steve Waldon . Unfortunately however, scientific analysis of the Darren's iron piece has proven a metallurgical negative match to the real Joe Byrne armour which leaves Darren with a tricky problem to overcome. See Darren's iron piece match Byrne armour in Benalla.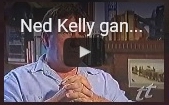 Watch Darren's find on YouTube video.
In trying to help resolve Darrens delema with ANSTO , during 2006 I contacted and visited Darren with a scientist willing to offer for free an independent sampling of his piece using 'Varian Techtron 'Atomic Absorption Spectrometer ' Details of the procedure were put in place so no false outcomes would be argued about, but Darren did not want to prceed.

Now also see Dee's Blog which exposes Darren's tricky problem with the help of some real pictures.


Main story - The Stringybark Creek shootings -
This webpage all started with this story in The Age



New Kelly find leaves theory of shootings up the creek
Melbourne newspaper ' The Age' on 10 Feb 2003 by Geoff Strong.
A gunpowder flask recovered from the ' Shingle' hut site (dating from the time of the Kellys) proves where the Kelly gang shootout occurred. The Age article headline, true to its word was not appreciated by eminent Kelly historian Mr. Ian Jones, who had declaring the huts finding as 'codswollup' on Melbourne ABC morning radio 774 AM. Mr.Jones's denigrating remark was unfortunate, since the huts finding proves the location of the shootout . Picture SANDY SCHELTEMA


Two Huts at Stringybark Creek. The only 'on the ground' research website into the haunts of the Kelly Gang. Two bush hut fireplaces found at Stringybark Ck by Kelly researcher Bill Denheld, re-establishes the exact location where two police troopers were killed by the Kelly gang in Oct 1878. This site is on the west bank and contrary to the east bank site to where tourists are being led by miss informed authorities *




The Police Camp Site; There has been an exhaustive investigation to identify the site. The investigation team was led by Bill Denheld and Linton Briggs and at the offset, any outcome was to be agreed to by all before publishing. There is a strong background slope in the old 1878 photo of where trooper Lonigan was shot,- Identify that slope on the ground and we can identify the proper site. But what do you have to do to convince each member to see. Join us to decipher and separate the bull from the dust. You be the judge ? *




Background image is a model replica of Ned Kelly's iron helmet for sale -


This is the place without doubt -


Bill's final document for identifying the authentic site of the Kelly /police shootout at SBC.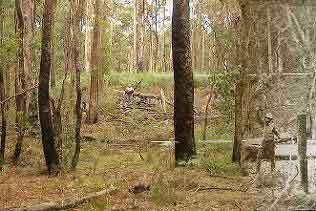 Over a period of 12 months a team of five have studied the sites, pondered over and over the evidence only to disagree. The majority of team members favored the area near the Kelly tree to which Bill could not agree. Bill was advised if he could not agree with the team's selection and paper CSI@SBC, then he should write his own. Despite Bill's endeavor to have the team see their error, Bill however, could not put his name to their document that failed on many fundamental points, one being the slope in the Burman photo. This is Bill's paper that leads you through the only site to pass the photo test. * Click here for link to main doc

Link to 'Bill is Right about Stringybark Creek'


Watch Tim Flannery and John Doyle see the magic of the Viewer Scope match.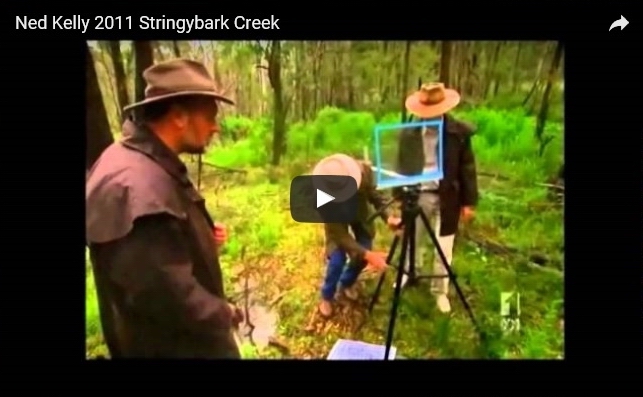 The subject of the Stringybark Creek police camp, the shooting dead of the three Police by the Kelly Gang, the exact spot is no longer a mystery.

With logic and on ground 'primary source evidence' for all to see, three other contended sites have been proven negative. But the proponents of those sites don't seem able to accept historical truth when presented to them. Please continue to read their opposing documents, then also see their web-forum debates and their ill conceived arguments. People I have shown this site to, like Prof. Tim Flannery, global warming activist, John Doyle, award winning writer, radio presenter and comedian, author Ian MacFarlane, of important recently published book 'Ned Kelly Unmasked', author Peter Fitzsimons his latest book 'Ned Kelly', all these people and dozens more highly professional observers all agree with my evidence presented, that the site of two huts fireplaces at SBC being the true correct site. All I ask is for my opponents to present a compelling case to the contrary! Forget all the hoopla, maybe etc, etc prove your case for another site. Bill






Then the CSI fight back while I was excluded.


On Sunday 5th August 2012 at the Beechworth Ned Kelly weekend. the authors of the CSI@SBC paper proposed the TRUE site of the Kelly gang / police shootings is located at or near the Kelly tree along Stringy Bark Creek north of Mansfield Victoria. This link takes you to a copy of a slanted argument from which Bill had been excluded, except here he makes his comments in blue.



See replica model of Ned Kelly's iron helmet


An earlier Ned Kelly forum debate about S-B-Creek-
KC2000 Forum. Since 2008 there has been ongoing debate about the authentic site at Stringybark Creek and with more than 500 postings and more than 18.000 reads on this subject. Forum owner Admin has made these pages accessible only to 'members'. With organisations such as Heritage Vic, DSE, Police H.Unit and the public all denied access to what was a public open forum that relied upon external links, are now blocked unless you are a member, and makes this forum a travesty, but here then is the complete pages for everyone to read.

These above 'true copies of forum pages' started out in the public domain in 2008, but they are locked away from public view despite the fact there remains constant attack on my research of the two huts site scenario. At the time I wanted to protect the integrity of these forum debates and to that end, I copied and stored them at the very time when their administrators began to allow deletions of certain postings that did not enhance their 'pseudonym' debaters at crucial points along the debate, I saw this a form of censorship of postings that were intended to change the very meaning and outcome of the debate without any regard for history! If this is how history is recorded, then I am very disappointed with accepted written history. Please take your time to read through all these web links and you will be able to make up your own mind. Bill

Other research about the Kelly gang -

The Kelly hut on Bullock Creek may not have been the only hut.
UPDATE, This looks at the possibility there were two huts occupied by the Kelly's at Bullock Ck. One was described by Constable James who found the Kelly camp one month after the killings at Stringybark Ck, the other is a photo of a hut, but the description doesn't match the photo? Here is a possible answer to the vexing question, were there TWO huts at Bullock Ck ? Another recent discovered is a 1930's photo of the Kelly Ck sawmill that was built directly over one of the Kelly camp hut sites. The picture shows a tree that could be one of the Kelly target trees.*




The Bullets of Kellys Creek During 1985 Bill Denheld is metal detecting at Kelly's Ck, where the Kellys lived for up to six months leading up to the shoot out with the police at Stringybark Ck. It stood to reason that some bullets fired by the Kelly's at target trees had missed the target. Included are the only known photos of the actual trees fired at by the Kellys' during their target practice at Bullock Creek 1878 ( later renamed Kelly's Ck, The photos of target trees were discovered during Aug 2003 some 125 years later. The target trees date from well before the shootings at Stringybark Ck. *




The hut behind the school. When the Kelly Gang were on the run during 1879-80 they were protected by many sympathisers and local farmers in N. East Victoria. This is another HUT discovery story still evolving. ' The hut behind the school ' was known about by locals long ago, but where it stood has only now been discovered by a group of Kelly researchers led by Alan Gibb, Arthur Hall and Marcus Swinburne. Each a descendant of land owners who were there at the time, they came together to solve a 100 year old mystery. With some old local knowledge and modern technology this little know piece of Kelly history is now for all to read. However, does anyone know of this hut pictured? This hut is not the hut behind the school- but was a Kelly gang occupied hut. But where was this? *

HTAV, the History Teachers Association of Victoria,
Journal 'Agora magazine, has published - The Politics of Ned by Bill Denheld
Title 'What links did Ned Kelly and his associates have with the republican and Federation movements in nineteenth-century Victoria'?







Kelly gang helmet armour www.ironicon.com.au/helmets.htm This is a 1/3rd scale replica is of Ned's helmet. Each of the Kelly gang's helmets have been replicated and are available as a collectable set. These models are very close to the originals in detail and each exhibit all the nuances of blacksmiths work. They are authentic in every detail and may never again be reproduced in sets of four. In this page we also analyze ' who may have made the amours' simply by the study of design features and plenty of conjecture. *




nativened. Where was Ned Kelly born? Dctr Maikel Annalee narrows it down to Wallan East some 3 Km North East of Beveridge town, (the previously accepted area). Like an archeological dig, we find new information that follows a thread connecting Ned to the Federation of Australia.
A recent Herald Sun article by journalist Mike Edmonds follows the thread.

The death mask and faces of Ned Kelly. The original death mask was part of a special display at Maxmillion Kreitmeyer's Waxworks in Bourke Street Melbourne 1880 the morning after Ned's execution. Kreitmeyer was reputed to have made the first impression from Ned's face, however, new information suggests the death mask may have been made by an accompanying Sydney Waxworks owner Desiderio Cristofani working with Maxmillion Kreitmeyer. *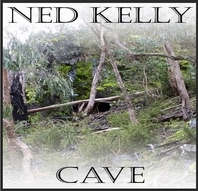 Kelly's Cave rumoured as the hideout of the Kellys' leading up to the police murders at Stringy Bark Creek only weeks later has been identified by Stephen Handbury 27 July 2014. This cave was first reported to the police as a likely place where the Kellys' may be hiding, and most likely the first day excursion led by Sergeant Kennedy and Const Scanlan to find it.
But this may not have been the only cave being looked for- See Feedback below




Background images are model replicas of Kelly Gang iron helmets for sale -



There is interest in the Police journey to Stringybark Ck Oct 1878 - did the police party get lost? McIntyre's evidence suggests the police party of four entered Stringybark from South to North. Ned Kelly's evidence, he saw police horse tracks way to the East of Stringybark Ck which he attributed to a second South bound police party. Some readers have asked me to provide info on the Route the police party took to their camp site. Please click on these image links. http://www.ironicon.com.au/images/sbc-view-to-mansfield.jpg http://www.ironicon.com.au/images/sbc-view-green-blazed-tree-line.jpg

These two web pages are inter related


The Deposition papers of Thomas McIntyre. He was the sole survivor of the shootout with the Kelly gang at Stringybark Ck. On the margin of his court papers for the prosecution of Ned Kelly, someone has drawn a little hut. We like to believe this hut drawing represents the Shingle hut near where the police had camped.
Sharon Hollingsworth brings to light who may have drawn this hut doodle.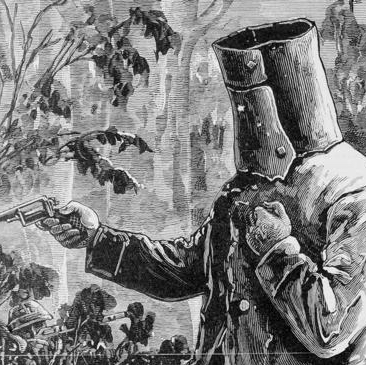 Ned Kelly's last words not 'such is life' A LEADING Queensland psychiatrist, Dr Scott has diagnosed legendary bushranger Ned Kelly as a violent and vindictive psychopath — and dismissed his famous last words 'such is life' as a myth.
Dr Scott joined with Melbourne historian and author of 'The Kelly Gang Unmasked', Ian MacFarlane, to reach remarkable conclusions about the bushranger for an article in the journal Psychiatry, Psychology and Law. Read book Abstract


Background image is a model replica of Ned Kelly's iron helmet for sale -



Australian Geographic article does not put Ned's DNA to rest ?
Glenrowan-based historian Gary Dean, who has been researching the Kelly history for more than 40 years, says while there's a strong possibility the remains belong to Kelly, he's not convinced the connection has been conclusively proven. DNA passed along the male line is needed in addition to mitochondrial DNA that was passed down from Kelly's sister, he says -


See replica model of Joe Byrne's iron helmet



"Valid links with the Past" Kelly Sites Toombullup beginning 1885...
Historians, Sheila Hutchinson and Fay Johnson bring you back to where the Kelly occupation had left its mark. Using their fascinating research, the exact location of the Kelly target tree and the Kelly hut site can be plotted on the ground. As expected the Kelly related sites were marked on the earliest maps of the district. They advance material to suggest the shoot out site was north of the picnic ground at SBC.